Rangers have witnessed an array of legends grace Ibrox during the Glasgow giant's illustrious history as the most successful football club in Scotland. A long list of icons have brought title after title back to the club's famous ground having produced a number of dominant periods.
Legends are made at Rangers who live long in the hearts of one of the largest fanbases in the world. So, Rangers News has taken a look at the top 10 icons of this historic team. From John Greig, the Gers' all-time record appearance maker, to their record goalscorer, Ally McCoist.
John Greig
| | |
| --- | --- |
| Position: | Left-back |
| Appearances: | 755 |
| Goals: | 120 |
| Managers: | Scot Symon (1961-67), David White (1967-69), William Waddell (1969-72), Jock Wallace (1972-78) |
| Years at Rangers: | 1961-1978 |
Greig established himself firmly as a Rangers legend during a storied spell at Ibrox from 1961 to 1978. The defender graduated from Rangers' academy and helped the Glasgow giants go on to lift several trophies. He would eventually retire as a five-time Scottish top-flight winner.
The Edinburgh native first helped add the top-flight title to Rangers' trophy cabinet as part of a domestic double in 1962/63 with the Scottish Cup. Greig and the Gers went one better in 1963/64, as well, by securing a treble with the first of the left-back's five League Cup titles.
Rangers even enjoyed their only European success so far during Greig's spell as their captain. Their six-time Scottish Cup winner lifted the European Cup Winners' Cup in 1971/72. He was also regularly a forceful presence and a true leader of men to see the Gers win three trebles.
Greig's career as a one-club man cemented his place amongst the legends of Rangers with a club-record tally of 755 appearances. He also became the manager at Ibrox after retiring and was later a director. While Rangers fans also voted him as their greatest-ever player in 1999.
Ally McCoist
| | |
| --- | --- |
| Position: | Centre-forward |
| Appearances: | 581 |
| Goals: | 355 |
| Managers: | John Greig (1983), Jock Wallace (1983-86), Graeme Souness (1986-91), Walter Smith (1991-98) |
| Years at Rangers: | 1983-1998 |
Greig's switch into management with Rangers in 1978 soon brought a future legend through the doors at Ibrox, as well. The Gers hero raided Sunderland to see McCoist head to Glasgow for £185k in 1983. He had already shone in Scotland with St Johnstone in the 1980/81 term.
McCoist left St Johnstone for Sunderland on the back of hitting 22 goals in 38 games. But he would not replicate his impact for the Black Cats, netting just eight goals in the following two years. Yet McCoist found his scoring boots at Rangers to hit a club-record 355 in 581 games.
His 15 years at Ibrox further returned a staggering 20 major honours with 10 top-flight titles. McCoist helped to make Rangers the all-conquering force in Scotland from the mid-1980s to the late-1990s. His haul of winners' medals featured nine League Cups and a Scottish Cup.
Such was his hat rate that McCoist even sealed the European Golden Boot in 1992 and 1993. His form also helped to all of Rangers' nine-in-a-row top-flight titles. Walter Smith also lured him back to Ibrox as his assistant coach in 2007 before McCoist took over from 2011 to 2014.
Davie Cooper
| | |
| --- | --- |
| Position: | Winger |
| Appearances: | 540 |
| Goals: | 75 |
| Managers: | Jock Wallace (1977-78), John Greig (1978-83), Jock Wallace (1983-86), Graeme Souness (1986-89) |
| Years at Rangers: | 1977-1989 |
Davie Cooper was an immensely elegant winger who thrilled Rangers supporters for 12 years with his creativity. The forward even dazzled his opponents as Dutch hero Ruud Gullit named Cooper in his 'Perfect XI' in 2007. They had met as Rangers and Feyenoord played a friendly.
The forward from Hamilton left a lasting impression on those he played with and against as a master of control. Cooper dictated where the ball went and glid beyond defenders with ease at the drop of his shoulder. While his wonderful left foot fashioned a host of precise crosses.
Cooper could achieve almost anything he wanted with his left foot that he seldom needed to use his right boot. While the winger also scored one of the greatest goals in Rangers' history to beat Celtic in the 1979/80 Drybrough Cup final after flicking his way around four players.
Rangers would also seal three top-flight titles, three Scottish Cups and seven League Cups in Cooper's legendary career at Ibrox. While he went on to add to his Second Division title with Clydebank from 1975/96 by winning the Scottish Cup again with Motherwell come 1990/91.
Jim Baxter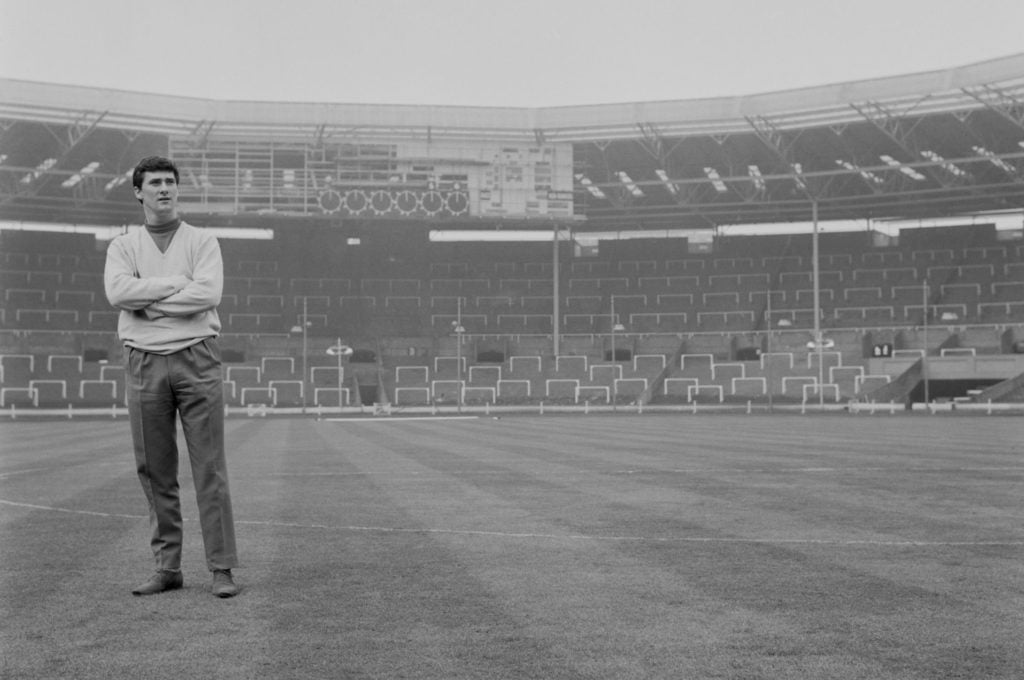 | | |
| --- | --- |
| Position: | Left midfielder |
| Appearances: | 354 |
| Goals: | 24 |
| Managers: | Scot Symon (1960-65), David White (1969), William Waddell (1969-70) |
| Years at Rangers: | 1960-1965, 1969-70 |
Jim Baxter had a wand of a left foot to establish himself not only as a Rangers legend but as one of Scotland's greatest-ever players. The midfielder was an influential presence with the Gers and his country. 'Slim Jim' also supplied one of his best games to beat England in 1963.
Even after the Three Lions had won the 1966 World Cup, Baxter's confidence on the ball was as clear as day when the Tartan Army met the global champions in 1967. He took his country to another win over the Auld Enemy and juggled the ball whilst his teammates found space.
Baxter's teasing was typical of the character he was, while also boasting incredible vision and trickery. His talents would also help Rangers win the European Cup Winners' Cup as part of a treble in 1960/61 with the first of his three top-flight titles and one of his four League Cups.
Rangers also lifted the Scottish Cup three times before Baxter left Ibrox for Sunderland. The transfer turned the Gers' £17.5k outlay into a £72.5k return. But the Glasgow-born icon only enjoyed a short career with the Black Cats and Nottingham Forest before returning in 1969.
Andy Goram
| | |
| --- | --- |
| Position: | Goalkeeper |
| Appearances: | 260 |
| Goals: | 0 |
| Managers: | Walter Smith (1991-98) |
| Years at Rangers: | 1991-1998 |
Rangers have enjoyed the services of numerous legendary goalkeepers over the years but no shot-stopper can overshadow 'The Goalie', Andy Goram. He featured 260 times for the Gers from 1991 to 1998 and touched five league titles, three Scottish Cups and two League Cups.
He also won 43 caps for Scotland and was the Tartan Army's No1 during Euro 1992 and Euro 1996. Yet Goram was also a league cricketer as a wicket-keeper and batsman as the Bury-born hero broke through in the 1980s. He even scored a goal after moving to Hibernian.
Rangers later secured Goram's signature after a dedicated career for Hibs. Smith agreed to a £1m deal to make the goalkeeper his first signing in charge. His start was not perfect after he conceded some soft goals but Gorm ended his debut term with 26 clean sheets in 55 games.
Goram nearly then helped Rangers reach the Champions League final in 1992/93 as despite their unbeaten record in Group A, Marseille would go on to face and beat AC Milan. Yet that term led to a treble as Goram won a second league and Scottish Cup plus a first League Cup.
Sandy Jardine
| | |
| --- | --- |
| Position: | Right-back |
| Appearances: | 674 |
| Goals: | 77 |
| Managers: | Scot Symon (1966-67), David White (1967-69), William Waddell (1969-72), Jock Wallace (1972-78), John Greig (1979-82) |
| Years at Rangers: | 1966-1982 |
Sandy Jardine enjoyed more than 1,000 appearances over a career that featured 674 games for Rangers. Only Greig has ever featured more often for the Ibrox natives than the left-back achieved over a 16-year stay. While Jardine was also a product of the Gers' academy side.
Scot Symon gave Jardine his breakthrough in 1966 and instantly moved the then 18-year-old back from an apprenticeship as a midfielder into his defence. Goals soon followed, as well, as Jardine hit against Ayr United and he would play the 1967 European Cup Winners' Cup final.
David White would offer Jardine the chance to move about the pitch and even used him as a centre-forward at times. But the Edinburgh-born hero made the right-back spot his own and secured his first major trophy in the 1970 League Cup. It was his first of five winners' medals.
Rangers and Jardine would also put their 1967 heartbreak to Bayern Munich in the past and beat Dynamo Moscow to win the 1972 European Cup Winners' Cup final. The right-back also helped the Gers add three top-flight trophies and five Scottish Cups to their trophy cabinet.
Richard Gough
| | |
| --- | --- |
| Position: | Centre-half |
| Appearances: | 427 |
| Goals: | 37 |
| Managers: | Graeme Souness (1987-91), Walter Smith (1991-97, 1997-98) |
| Years at Rangers: | 1987-1997, 1997-1998 |
A consummate professional, Richard Gough became a Rangers legend over his two stints at Ibrox. The defender briefly departed the Glasgow giants after a decade in 1997 to try his skill in America with Kansas City Wizards. But he would return to Ibrox to enjoy one more season.
The Stockholm, Sweden-born former Scotland international first moved to Rangers after only one term at Tottenham Hotspur. He had also helped Spurs reach the FA Cup final in 1986/87 before losing to Coventry City. But the silverware would flow for years and years in Glasgow.
Gough helped Rangers win each of their nine-in-a-row league titles, alongside three Scottish Cups and six League Cups. While the Scottish Football Writers' Association even named him as its Player of the Year in 1988/89. A Gers player had not won the SFWA title since 1977/78.
His importance to Rangers saw Gough earn the club's captaincy, as well, and lead their nine-in-a-row successes. While Smith re-signed the centre-half shortly after his departure in 1997 to help address an injury crisis. They would link up once more after Smith took over Everton.
Barry Ferguson
| | |
| --- | --- |
| Position: | Defensive midfielder |
| Appearances: | 431 |
| Goals: | 60 |
| Managers: | Walter Smith (1997-98), Dick Advocaat (1998-2001), Alex McLeish (2001-03, 2005-06), Paul Le Guen (2006-07), Walter Smith (2007-09) |
| Years at Rangers: | 1997-2003, 2005-2009 |
Among the array of Rangers legends, there is a definite place in Ibrox history for former Gers captain Barry Ferguson. The midfielder skippered the ship from 2000 to 2003 and again from 2005 to 2009. He also lifted a huge 16 major titles through the midfielder's spells in Glasgow.
Blackburn Rovers briefly broke Ferguson's relationship with Rangers, which began as a youth gem in 1994. The Ewood Park club bought the Gers product in 2003 for £7.5m under former Gers boss Graeme Souness. But Ferguson returned to Ibrox for £5m after a tough two years.
Souness was confident in Ferguson being a success in England as he had taken up Rangers' captaincy at only 22 years old. He also won the SFWA Player of the Year award in 1999/2000 and 2002/03. The final year of Ferguson's first spell at Ibrox also saw Rangers win the treble.
A move to Lancashire would not pay off, though, and Ferguson leapt at a chance to return to Rangers in 2005. Alex McLeish later re-appointed Ferguson as his captain and the midfielder brought further success back to Ibrox before leaving as a six-time top-flight winner in 2009.
Ferguson's trophy cabinet also featured five League Cups and five Scottish Cups from his two spells at Rangers. While his move back from Blackburn Rovers still places the Hamilton-born star among their most expensive signings. He is also one of their most lucrative sales.
Paul Gascoigne
| | |
| --- | --- |
| Position: | Attacking midfielder |
| Appearances: | 104 |
| Goals: | 39 |
| Managers: | Walter Smith (1995-98) |
| Years at Rangers: | 1995-1998 |
One day with Smith was enough to convince future Rangers legend Paul Gascoigne to move to Ibrox from Lazio. He was one of the most naturally gifted Englishmen of all time and chose to join the Gers for his return to Britain in 1995. The next three years were the stuff of icons.
Gascoigne only had a brief stay in Glasgow but left more than a mark on the Gers' history. He helped the Gers claim two top-flight trophies and lift a Scottish Cup before making a move to Middlesbrough. While his icon at Ibrox began from the first day he walked through the door.
Arriving as Rangers' record signing in a £4.5m deal and on a £15k-a-week wage, Gascoigne thrilled the thousands waiting outside the stadium wearing Gough's No4 jersey and flip-flops. While the following few years featured some of the best football the midfielder ever played.
Injuries and poor form would blight his final days in Glasgow as they had in Rome. But the larger-than-life character announced himself as a future Rangers legend in the only suitable way by ending a lung-busting run from his own box to meet McCoist's cross and beat Celtic.
His hat-trick against Aberdeen also sealed Rangers the eighth title in their nine-in-a-row run. Gascoigne took over the game when the Gers found themselves behind and dazzled with his overpowering presence. Even once he was running on empty, Gascoigne took off and scored.
James Tavernier
| | |
| --- | --- |
| Position: | Right-back |
| Appearances: | More than 390 |
| Goals: | More than 99 |
| Managers: | Mark Warburton (2015-17), Pedro Caixinha (2017), Steven Gerrard (2018-21), Giovanni van Bronckhorst (2021-22), Michael Beale (2022-present) |
| Years at Rangers: | 2015-present |
When Mark Warburton paid Wigan Athletic a mere £200k to sign James Tavernier in 2015, it was the start of a new Rangers legend's iconic career at Ibrox. The full-back would also go on to become their latest club captain under Steven Gerrard on the eve of the 2018/19 season.
Tavernier has served the Gers with distinction since arriving in Glasgow to amass more than 390 appearances. He has also offered the Premiership giants treble-digit hauls of goals and assists across all competitions. While Rangers inducted him into their Hall of Fame in 2023.
Rangers recognised Tavernier, plus fellow modern-day legends Allan McGregor and Steven Davis, for their iconic contributions. Tavernier joined the club whilst they were competing in the Scottish Championship and helped to secure the title in his debut campaign at the club.
Tavernier would later lift Rangers' first top-flight title in a decade under Gerrard in 2020/21. He also penned 12 goals and 11 assists over 33 games that term before guiding the Gers to the 2021/22 Europa League final. The full-back even scored seven goals en route to Seville.