The moonhowling Celtic VAR campaign pays dividends against Kilmarnock as manager Ange Postecoglou appears to have been rattled by Rangers' Michael Beale.
Kilmarnock boss Derek McInnes was left fuming when his side were denied a clear penalty after Giorgios Giakoumakis fouled Joe Wright in the box during injury time of their League Cup semi-final at Hampden.
This came after Japanese striker Daizen Maeda had put our Old Firm rivals ahead at Hampden in the first half, with replays showing the striker appeared to handle the ball.
Despite this both incidents were not overturned by VAR, with Giorgios Giakoumakis going on to a score a second for Celtic in a 2-0 victory.
After the game, Derek McInnes claimed the incident was a clear penalty kick to Kilmarnock with Celtic benefitting directly from the dubious decision.
This comes after weeks of paranoid and pathetic coverage of the referees in Scotland from Celtic supporters and even some once respected members of the Scottish media community.
Celtic get laughable penalty decision against Kilmarnock after VAR groans
We will only ever treat this moonhowling, paranoid nonsense with contempt and this will continue so long as they claim that some kind of Masonic conspiracy is controlling Scottish football.
But the incident against Kilmarnock proves that there is a tangible, real world impact of these ramblings from sections of the Celtic fan base and it is worrying that the refereeing team and VAR have seemingly bent to them.
And yet, those Celtic voices who only last week were insisting that Rangers had it all their own way and that the world is out to get them, are decidedly silent on the fact Kilmarnock should've had a penalty against them and a goal should've probably been disallowed.
That includes increasingly cantankerous and miserable Aussie manager Ange Postecoglou, who went full-blown mystic Meg crank last week.
After completing his indoctrination into the league of gravy stained Celtic dads, the former Socceroos manager suggested that referees should've broke the IFAB rules to award his downtrodden and hard done-by side a penalty in the 2-2 draw with Rangers.
But despite all the bleating last week, and all the credibility lost outside of Celtic Park, Ange Postecoglou couldn't bring himself to sensibly discuss the situation after the Kilmarnock match.
In fact, between clearly and repeatedly trying to force a narrative around the Hampden pitch, the Celtic manager also let slip that he's been left somewhat rattled by Rangers boss Michael Beale.
Ange Postecoglou rattled by Michael Beale
Beale had said earlier in the week that the Celtic manager was "lucky" to have had such an extensive transfer budget.
Rather than take the Kilmarnock penalty incident as seriously as everyone associated with Celtic insisted we take the Rangers Connor Goldson penalty that never was, Ange Postecoglou made a telling quip about the Michael Beale comments.
Apparently, his expensively assembled Celtic side are just as lucky as him.
"Well, you think, I know, I'm a pretty lucky man so I just think it's filtering through to the team," said Postecoglou.
Not only do these comments give an insight into Ange Postecoglou being rattled by Michael Beale, but they also show how irresponsible he was last week.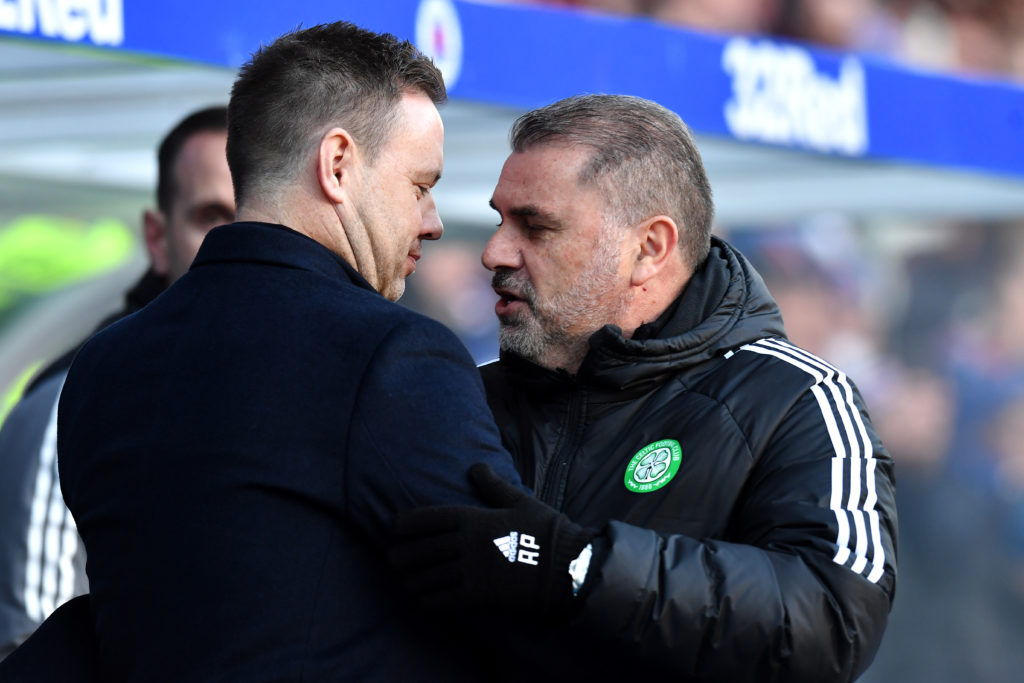 If Ange Postecoglou was ever serious about cleaning up VAR and ensuring the right decisions are made then he'd have used his status to say something useful following the Celtic Kilmarnock game.
Instead, all the Australian has done is proven that to him it's more about Celtic not having it all their own way than it is about VAR getting decisions right.
Give it 18 months and we reckon our man Mick will have this grumpy old sod out on his backside and back into footballing obscurity. Send it on.
After beating Kilmarnock in the Scottish League Cup semi-final, an Old Firm derby awaits in the final if Rangers can overcome Aberdeen.
Meanwhile, one Rangers striker is set to return to the club.
Have something to tell us about this article?
Let us know