Rangers legend Barry Ferguson has opened up on the picture that still "haunts him" 14 years after losing in the UEFA Cup final in Manchester as he pleaded with the current crop of Ibrox stars to lift the Europa League and banish his 'what might have been' nightmares.
Ferguson captained Rangers in their last European final as Walter Smith's side lost out to Zenit St Petersburg, with a photo of Fergie and Lee McCulloch still sticking in his memory.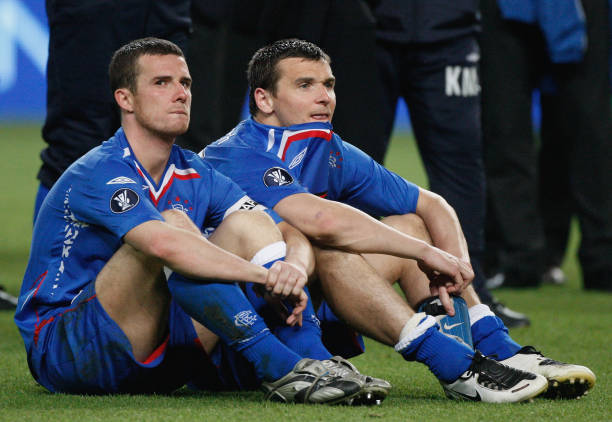 "Fourteen years on, there's a photograph which still haunts me to this day," Ferguson said [Daily Record]. "It's a picture of myself and Lee McCulloch sitting on the pitch at the Etihad, holding our knees to our chests. The pain is etched on my face and, to tell you the truth, I'm not sure it's ever fully gone away.
"Looking back, I had two summers that I would rather forget. That one. And the time I knew my Rangers career was over because of the Scotland Boozegate debacle. They were the most agonising times I ever had to endure as a professional."
Rangers duo's roles in Seville Europa League final 'astonishing' to Ferguson
While Ferguson admits there are still bitter memories from 2008, the fact Allan McGregor and Steven Davis will be involved in Seville is "astonishing" to their former captain.
Both could have key roles against Eintracht and Ferguson will be hoping they get to experience the celebrations he had planned in his head 14 years ago.
"It's actually astonishing that Allan McGregor was sitting in the stand with an injury on that night in Manchester and Steve Davis was beside me in midfield," Ferguson added. "I'm so pleased for them both that they have been given this second chance because it really should be once in a lifetime stuff.
"And now my only hope is that they manage to do what we couldn't. Like thousands of other fans I'll be there in Seville to see them do it on Wednesday night and I honestly believe it's going to happen.
"I mean this from the bottom of my heart, I want them to experience the celebrations that I had pictured inside my own head. And I want to be part of them. By turning it into an actual reality it will take away all the feelings I still carry around of 'what might have been'."
.
Have something to tell us about this article?
Let us know