Three points for Rangers, a clean sheet, a Kemar Roofe goal and the return of Tom Lawrence made Saturday's trip to Dingwall an enjoyable one, despite the conditions.
Roofe will still have to be managed given his problems over the last couple of seasons, however in the Wales international, Michael Beale has a real boost in terms of quality.
Speaking to Sky Sports after the comfortable 2-0 win, the Rangers manager hinted that Tom Lawrence could be part of his plans for a, potentially, season defining week.
Even against Ross County we saw the 29-year old's versatility.
Deployed in midfield when he came on for Todd Cantwell, Lawrence was seen linking play in the final third, taking a customary long-range effort but also dropping into the Rangers half to build attacks.
MORE RANGERS STORIES
Being capable of using both feet makes it easier for Lawrence to evade pressure too, he doesn't have to turn towards his own goal if the ball is on his "wrong" side.
Rangers could have Tom Lawrence in key fixtures
A quality that is especially useful against better quality teams and Beale has hinted that Rangers fans could see Tom Lawrence this week against Celtic.
"Another player that's been out for 11 months.
"He's been nagging me saying he's more ready than I think he is but now he's back and the next week will be good for him.
"The international break is coming at the right time because after that I see him in contention for being a starter again and that's a huge boost.
"Both Kemar and Tom bring so much experience in terms of their age and appearances.
"We need those types."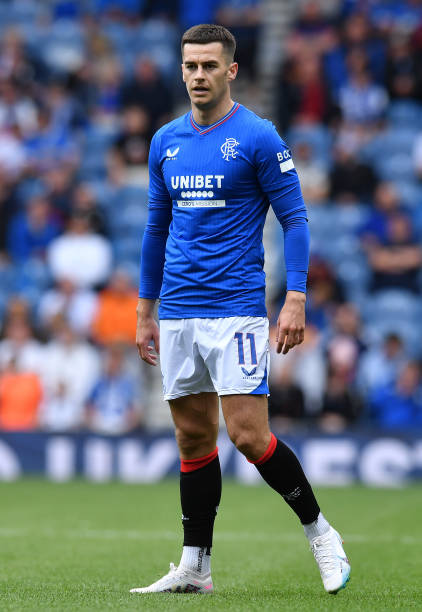 The whole point of Rangers having a big squad is so players like Tom Lawrence can play as and when they are needed rather than having to play every game.
Like Cantwell, in a more defensive line up, he can play further forward or in most domestic games in the midfield three.
What this also does is give the manager the chance to play Cantwell deeper and keep more goal scorers in the team.
Michael Beale, listening to his interviews, has definitely held Roofe and Lawrence back longer than he had to.
With Lawrence not available for PSV, a full week of rest, recovery and more training could see him primed for a role in next Sunday's Old Firm derby.
Having the pair of them fit for the whole season will only improve our chances of success.
Related Topics